I had an email from Kate the other day, a childhood, well, I guess early teenage really, friend. We were at senior secondary school together and, as it happened, she lived in the street next to mine. We were, what, 12 years old, through to when we left school at 16, although I think we had drifted apart at 15 when we went into different classes to study for our GCSE 'O' levels.
That would be Wellington Avenue Secondary School for Girls in Chingford, and I was Helen Turner back then. Looking back, many of us were regarded as not very bright - after all, we'd failed the 11-plus. We were destined, back in the latter half of the 60s, for secretaries, hairdressers, shop assistants, housewives... in other words, not much was expected of us. I remember the geography mistress was usually asleep during lessons, history was droned from a boring book, maths I was terrified of (I still can't function with figures because of my phobia of numbers caused by poor to dreadful teaching). I hated sports and games because I couldn't catch or hit balls, was gawky and self-conscious - I mean we did P.E. in vest and knickers... at 13 with the boys' school right next door. Embarrassment isn't the word for it! (Do you get the impression that I hated school? Quite right. I did.)
Wellington Avenue
I was always somewhat envious of Kate, but as it turns out, she was envious of me, which I find to be hilarious! Envious? Of me? Whatever for!? We didn't have much in common as I recall, apart from we both wanted a pony. Kate was confident and mature and pretty. I wasn't. Her dad had a huge collection of Beswick china horses - gosh I envied her those horses - utterly appalling that we used to play with them (I mean these were china!) building showjumping courses and jumping them round... it's amazing that only one of mine suffered a broken leg!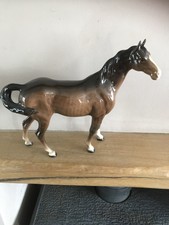 One of my precious Beswicks
In her email, Kate said: "Looking at your photos [on Facebook] made me think of us as children; the games we played & dreams we had of riding horses (& marrying Paul McCartney). It was at your house that I first heard the Rubber Soul album & it was at your house we played show jumping games with our horses. I used to carry my china Beswick horses in an old leather satchel. My father would have had a fit if he had known. He used to buy them for me in the vain hope that I would grow out of wanting my own horse! All of this made me think of how many of our dreams we have realised, you in particular. I remember Mrs Llewelyn reading the 'Golden Road to Samarkand' & your passion for books by Rosemary Sutcliff."
Which in turn made me think of writing this article. As a teenager, I was shy totally lacking in self-esteem and confidence. Had no real friends. My world was that of books, I was always reading, The characters in the stories I read were my friends: they didn't laugh at you, call you names, make you feel awkward and useless. The only thing I enjoyed about school was English with Mrs Llewelyn. She was strict - a real Welsh Dragon, but she showed me how to write. Because of her, I discovered good books to read - and how to write good stories. I read and wrote pony stories back then - I so wanted a pony! We couldn't afford one, so I did what I thought everyone did: made one up and wrote about our adventures together. It came as a bit of a shock to me to discover that no one else in my class did this!
My dream was to own my own horse, a dream I fulfilled when leaving school to become a library assistant. I was still writing, but had moved on to fantasy and science fiction (this was the age of Star Wars first time around! )
Then I rediscovered Rosemary Sutcliff, Mary Stewart and King Arthur and my dream to one day write a novel turned to a determination to get on and write it and have it published.
So I was still writing. At every chance, I was scribbling (and this was pre-computer!) Even while at work, supposedly doing official work in the library office - if I was on my own I was either writing or researching about MY version of Arthur, set in the post-Roman era of the 4-500s.
I was laughed at at school for being a book worm. No one during my 20's believed that I would write a novel. Actually, I'd given up, but in my early 30s, now married and with a daughter, I started again and went back to my epic Arthur attempt. It took me ten years.
launch day of my first novel 1994
Well, twenty-six years ago this week, a week after my 40th birthday, I discovered that what would become The Kingmaking and the first half of Pendragon's Banner was accepted by William Heinemann for publication. I am now writing my 16th book.
Was it just a dream, or dogged determination that kept me going? The latter two, I suspect.
As for the other dreams of childhood, I now live in an old farmhouse in the heart of the North Devon countryside, a dream I've had since those uncomfortable town-dwelling days at school. We have ponies (Exmoors - another dream, I'd always wanted an Exmor) I'm a relatively successful author, I've a wonderful family ... and actually not that bothered that I didn't marry Paul McCartney after all. What about you Kate? *laugh*
My 18th century farmhouse
The Exmoors
But do you know, one of the
nicest
things is that I'm still friends with Kate, even though she is now in Australia. A slight regret is that we weren't firmer friends back then in our school days, because I think if we hadn't both been so busy being envious of each other we'd have enjoyed sharing - and achieving - those childhood dreams of ours together.
Here's to achieving dreams!
Salute!